Sex Game Online with Video Chat
Sex Game Online with Video Chat is a game that you can play with strangers at Secret Dare. You can choose to use Video Chat or you can choose to use pictures. The advantage of pictures is that you have more time to get to know each other, try out a few things, and ultimately also more time to fulfill the assignment. It takes the pressure off of it. However, if you're already familiar with each other or you both just want to dive in, then Video Chat is an excellent way to have a hot steamy contact. It feels much more real than pictures, and you can talk to each other so you hear each other's voices well. Check out the article below if you want to learn more about Sex Game Online with Video Chat or pictures with strangers.
If you want to play a game of Sexy Truth or Dare Online with strangers, you can sign up for free at Secret Dare and have a try. You can browse through profiles or search on specific fantasies to find somebody to play with.
How to Play a Sex Game Online with a Stranger Using Video Chat or Pictures
Playing an online sex game with someone else you do not know, simply by using your webcam and your browser, can be a great way to express yourself. Although it is virtual, you do have intimate contact with the person on the other side. You show yourself literally, but also figuratively. You show your vulnerabilities, the things you like and the things you don't like. You need to communicate about what you want and what you don't want and step-by-step you get to know each other and build trust. You can play a sex or porn game using Video Chat or pictures. Here is some extra information about these two different ways of sexy games online.
Playing While Using Video Chat
If you are in a situation where you are one-on-one with a stranger on Video Chat and you want to play a sex game, it is sometimes hard to imagine want to do. Here are some examples of some things that you can do, and you can apply them for instance to your mouth, inner thigh, chest, dick or pussy, or ass.
1. Dirty Talk
Not everybody is able to create a decent dirty talk, or feels comfortable doing it. So you can check with the other person just to be sure. If the other person is a straight-up dirty talker, you hit the jackpot. Just sit back and relax and let the words seduce you. The sound and the words create all these images in your mind, and the best part is that you will actually get a chance to see them later on. And if you are a dirty talker yourself, you can finally embrace it and let it all out. Make the other squirm without showing them anything, but simply by driving them wild with your stories.
2. Teasing
You can tease a certain body part, or you can tease something that you want to do to somebody. It can involve dirty talk, but it doesn't have to. You can slightly reveal stuff, and make some sensual movements. Teasing always works better when you're not completely naked, when you're wearing at least some clothes. So there is something left to the imagination, and you have something to play with. You can also tease somebody by showing them how you would perform a sexual act on the other person, that is always a winner.
3. Play with Yourself
This doesn't need too much explanation, it simply playing with a part of your body. You can build it up and not jump right in. So for instance caress an area around the main part before actually touching it. It's okay to make noise, you're physically apart so anything helps to get a more intimate feeling. And of course, you can choose to do this at the same time, with even an agreement to orgasm timing.
Make sure that you set up your webcam correctly for this one, a nice angle with a beautiful view makes all the difference. And if you're a bit more technically advanced, you can put on a nice filter as well.
4. Use a Sex Toy
With the lack of the real thing anywhere nearby, you can use a sex toy as a substitute. The nice thing about doing this during a Video Chat session is that it is easy to imagine the sex toy being the other person on the screen that you are viewing. For instance putting a vibrator inside of you while looking at the beautiful throbbing penis of your chatting partner. For guys, you have the regular or automated fleshlights. The automated ones do make some noise because of the motor, so you might just want to use those when nobody's around.
5. Use an Object from the Kitchen
When things are heated up you can consider this option. It might be a bit too much to start things off with this, especially if you haven't met the other person before (online or in real life). It might be better to first build some trust and then go for this one. The cucumber for women works great, especially if you warm it up in the microwave a little, and men could try a hollowed zucchini, also heated. It depends of course on the size of the zucchini, and the size of your penis.
Let a Website Tell You What to Do
If you find it difficult to make a nice list of things to do with the above suggestions, or you just want somebody else to tell you what to do, you could always ask a website or app. For instance, while you are Video Chatting, you can open this sex act generator in a new window, and roll the dice. Or check these articles on games for long distance relationships, tips on Skype sex or this Reddit page for tips and tricks.
Video Chat at Secret Dare
You can Video Chat with members here at Secret Dare. You can search profiles, and if you have a click with somebody, you can ask them to join a one-on-one Video Chat session. You can sign up for free, and check it out.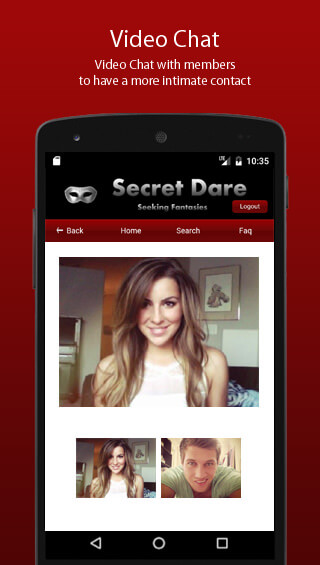 Playing a Game with Pictures
Playing an erotic game with somebody you do not know online using pictures can be really enticing. It takes some time for the other person to fulfill the assignment that you asked for, so it builds up the tension. It is also nice that because of this, you're able to take the time that you need to get a great shot and make the best of it for the other person. So for instance if you have to show yourself in your most sexy outfit, you can take all evening to dress up perfectly and you can finally show off all these great sexy outfits. At Secret Dare you can play Dirty Truth or Dare Online with Strangers, with a system that makes sure that both parties successfully completed their assignment before exchanging the pictures.
The Best 5 Online Sex Games of 2021
There are many sex and porn games out there, once where you can just play a game by yourself, or use an avatar to meet other people, or have an actual online sex game with somebody you do not know, using just your webcam. Secret Dare has a porn game online where you can play with another person you have not met before. If instead you would want to play just by yourself, or with an avatar, here are a top 5 of the best online porn games out there that cover that.
Second Life is a three-dimensional online world, where you can walk around and discover places and people. It is not specifically designed for sexual engagement, but there are hundreds of locations specifically designed for erotic encounters. Second Life is the biggest massive multiplayer online role-playing game, and it has the biggest choice in creating your avatar, and the sex positions you would like to take. It is free to register and have a look around, if you want some more fancy stuff a monthly subscription is required.
Pros
Free to use to have a look around
A lot of options
You can create your own character
A lot of other members
You play with real people
Cons
You have to pay for new items
Takes time to learn everything
It's a virtual world also built on non-adult environments
Not people in real life
Virtual Reality (VR) sex games are relatively new, and are a great way to immerse yourself into another world. It is great that you can look around and feel yourself placed right at the action. And if you have extra tools, it can make it even more realistic.
Pros
It feels real
You do not see anything else than the game, so you are totally immersed
Cons
You need special equipment
Many games cost money
You would need to feel at ease with VR in general (some people get nauseous)
3DXChat is another online virtual world. It is similar to Second Life, but it is dedicated to adult content. This way it is easier to find what you want. They also have fewer options, but some regard that as a positive thing, because it can make the game a bit more clear. They do not have a free version.
Pros
You play with actual other people
Relaxing and beautiful 3-D world
You can choose your own character
A lot of sexual acts to choose from
Winner of multiple porn mmo awards
Only about sex
You do not have to pay for items
Cons
Limited options compared to Second Life
Only for windows
Only paid
Not people in real life
Takes time to learn everything
SexoClicker is a simple game that you can play in your browser. There is no registration needed, and you do not need to download anything. So if you're looking for a quick way to have some fun, this might be what you're looking for. You simply start clicking to try and arouse the women in the pictures, and this way you can reach separate levels.
Pros
You can play it in your browser so nothing to download
No registration
It's completely free
Pictures of real girls
Cons
Only click-based
Complicated
You're playing by yourself
Naughty Grin is a website that offers a game of chance for you and your partner. It is like rolling a dice, and you have to perform whatever the outcome is. They have numerous games, and different levels within each game. It is really nice if you would like to play a sex game with your partner, or with somebody online that you just met.
Pros
Helps you think of assignments
You can play with your partner
You have an excuse to try new things
Not complicated
Cons
No avatars
No other people
No graphics
Conclusion
To summarize, if you want to play an online sex game with another person then the Truth or Dare game at Secret Dare is the best app and website there is. Because it is intimate and direct, you're interacting with a real person and it is one-on-one. However, if you are into 3D avatars, Second Life is the way to go. It is the oldest and biggest virtual world, and it is free to sign up and take part. If you just want to play a game, but not specifically with someone else, you can always try SexoClicker.
Page was published and last updated on Mon, 22 March 2021, 16:54:45 GMT